Valentine's Orlando Escorts History
Visit the Internet Archive website to view websites archived beginning in 1996. In the box that states "Way Back Machine" enter "www.escortorl.com" to view my website from 1996 through September 2001. After that I have no clue what was done with the site.
I owned escort services in the Orlando, Florida area from 1992, until I closed in late September of 2001. The first service that I opened was Abra-Cadabra Orlando Escorts. When I closed this one in 1996, the main name that I used thereafter was Valentine's Orlando Escorts. Abra-Cadabra was first published on the internet in 1993, and it was the second escort service in the world online. The first was a service in the Seattle, Washington area. If you ever dialed my service or viewed the website, you'd know me as Laura.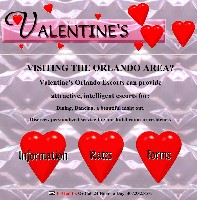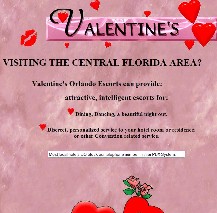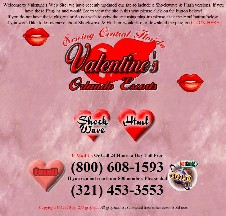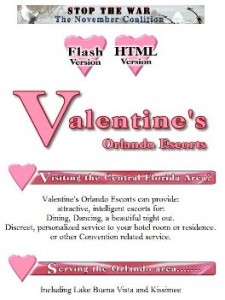 Above are screenshots of my website in the early years. I never even had an adult ad or banner on my website. November.org (an anti Drug War organization) and FAMM (Families Against Mandatory Minimums) were given free banner space. I was all too aware that I lived in Orlando, Florida. In its day, it was the most conservative adult business website online.