Start an escort service and operate the right way!
If you are seeking information on how to start an escort service and operate it correctly, you have come to the right place. Please explore my website so that you know who I am and that I really was in the business for many years – sometimes I state 13+ but if we include the case, research, and writing it would be closer to 20.
Check out the My Former Business page on this website. I owned escort services in Orlando for an entire decade, but I actually started out as a booker for an agency in Miami back in the mid-1980s. I am real – I am not some anonymous marketer. It should matter to you.
The Blueprint for an Escort Service book has now (as of February 2012) been updated completely in relation to technology advances and changes in the last 2 1/2 years since its July 2009 publishing. The ebook is available in the Amazon Kindle store, Google Play, and Barnes and Noble Nook store. The paperbacks are now only available from Amazon.
The Complete Blueprint for an Escort Service is also available in the Google Play store!
There are Kindle apps available for your PC or laptop and most smartphones on the market: Free Kindle Reading Apps. Though I understand that many preferred a PDF copy, this is no longer a viable option for me.
If you purchased the earlier (July 2009) version of Blueprint for an Escort Service in paperback, visit Blueprint Updates on this website. The new paperback and ebook does have the updated information incorporated throughout; however, it is basically the same information that you will find on the linked updates pages.
I have tried to keep the information on how to open and operate an escort agency correctly available to anyone for a low price as escort business prosecutions in the news are particularly distressing to me. I want you to know how to start an escort service and operate it correctly.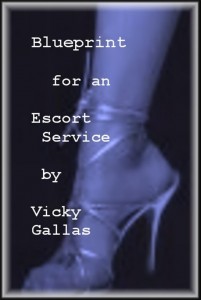 I am sure that Blueprint for an Escort Service offers more information that is up-to-date on the topic than any other available material on the market.
The updated paperback has a publishing date of February 13, 2012.